Common Text Immersion Weekend not Intimidated by Snow!
Although this semester's Common-Text Immersion Weekend began with being slammed by a snowy nor'easter, it turned out to be successful nonetheless. Students were able to engage themselves in the ideas of Shane Claiborne, as well as interaction with the author himself.
Friday night took the hardest hit of the snow storm, as icy/rainy/snowy conditions were had. MCPC students were still able to sit in on a talk presented by Shane Claiborne, though, in the MCPC chapel. Outings were scheduled throughout the city, but did not take place due to the conditions. Students found their own fun, however. Some even played in the snow on Broad Street!
Saturday's scheduled Community Service also did not take place due to inclement weather, but students are encouraged to go back to Ray of Hope this Saturday instead, if possible. Focus groups with Shane Claiborne went from 2 pm – 5:15 pm. During these 45 minute sessions, Shane presented his ideas of simple living and New Monasticism at a more in-depth level. College students from other institutions such as Eastern University, Albright, and Wingate also joined in on the talks. Questions and comments were addressed, and much was elaborated on regarding Shane's viewpoints as well as his book, The Irresistible Revolution.
Sunday was less driven by the Common Text and focused more on having a good time with fellow MCPC students, as a 76ers game was enjoyed at the Wachovia Center after a morning of Sunday worship at various city churches. Although the 76ers lost horribly, everyone had a good time.
Monday night's usual community activities brought this semester's 2nd Immersion Weekend to an appropriate close, as small group sessions helped individuals express their opinions regarding Shane's ideas. Questions were addressed that encouraged analysis, growth, and reflection regarding simple living and "extreme revolutionary" ideas. It became obvious that each and every student benefited from the Common Text in one way or another. So take that, snowstorm!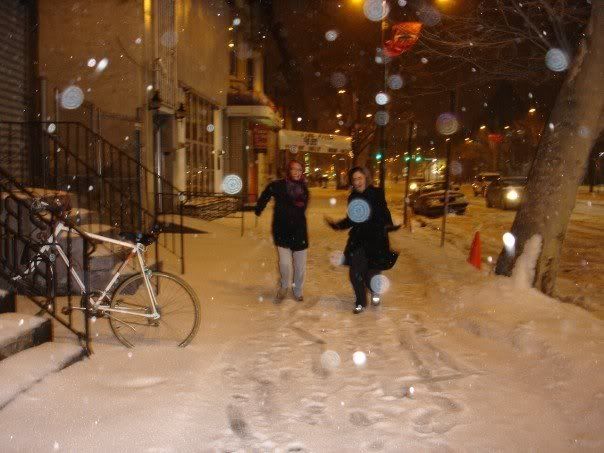 Students enjoy the snow on Friday outside of MCPC.

Some venture into the city despite conditions.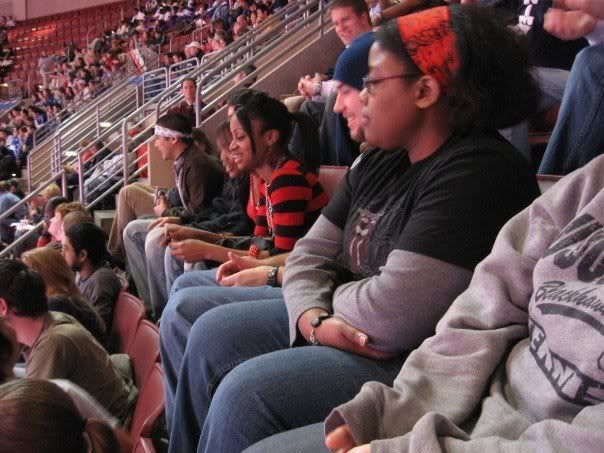 Enjoying the game, despite a sad scoreboard.